Spinning
This class is taught by: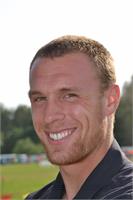 Dave found his niche early on when he began developing training routines for himself and soon noticed a desire to help others reach their fitness goals. He realized he had a knack for motivating and training others and in 2011 graduated from Campbell University with a degree in Fitness & Wellness Management. He is an ACSM Certified Personal Trainer, who was an all conference college athlete and double-sported in football and track. He advocates a balanced approach to all facets of life; from nutrition, strength, and flexibility, to sleep and relaxation. He finds it truly gratifying to see clients surpass their goals to reach their personal best while maintaining a balanced lifestyle.
Rene' became certified as Spinning instructor Fall 2009. You'll be infected with her enthusiasm and fall in love with Spinning and improving your fitness.
Spinning is a simulation of an outdoor bike ride over a variety of terrain, led by an instructor and accompanied by motivational, driving music. Instructors lead students through basic movements that combine various hand and body positions and different types of pedal strokes. Periods of all-out sprinting are alternated with slower, uphill work, which serves as a type of interval training. An awesome way to burn calories and have a great time! Class is appropriate for all levels of students who are healthy and free from serious structural weakness or injuries.
Upcoming classes: