Trim n' Tone Bootcamp
This class is taught by: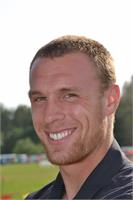 Dave found his niche early on when he began developing training routines for himself and soon noticed a desire to help others reach their fitness goals. He realized he had a knack for motivating and training others and in 2011 graduated from Campbell University with a degree in Fitness & Wellness Management. He is an ACSM Certified Personal Trainer, who was an all conference college athlete and double-sported in football and track. He advocates a balanced approach to all facets of life; from nutrition, strength, and flexibility, to sleep and relaxation. He finds it truly gratifying to see clients surpass their goals to reach their personal best while maintaining a balanced lifestyle.
"Trim 'n Tone" is an 8 week fitness bootcamp designed to either help you trim inches and lose unwanted weight (or both), all while toning up your muscles. The program runs 4x/week, Mondays through Thursdays, 8-9am and 6-7pm. This is a strict program which boosts core development using specific strength & cardio based exercises. Cardio and aerobic workouts happen on M/W, elevating your heart rate and maximizing your caloric burn, while your muscular strength and endurance is challenged on T/Th evenings, pushing your body to its limit.
With consistent attendance and hard work, you'll be able to burn fat and build lean muscle quickly!
Clients have the option to have their measurements taken before and after the bootcamp, and weight taken once every week (if you so choose). See you there!