Peak Performance - Advanced
This class is taught by: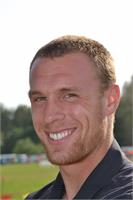 Dave found his niche early on when he began developing training routines for himself and soon noticed a desire to help others reach their fitness goals. He realized he had a knack for motivating and training others and in 2011 graduated from Campbell University with a degree in Fitness & Wellness Management. He is an ACSM Certified Personal Trainer, who was an all conference college athlete and double-sported in football and track. He advocates a balanced approach to all facets of life; from nutrition, strength, and flexibility, to sleep and relaxation. He finds it truly gratifying to see clients surpass their goals to reach their personal best while maintaining a balanced lifestyle.
Upcoming classes: