Kay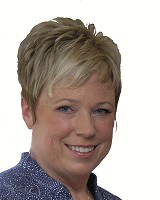 Kay, began teaching fitness classes in 2004 and became a certified personal trainer later that year. She is certified by the American Council on Excercise as a Personal Trainer, and is certified by Spinning, YogaFit, and PiYo. Kay has unbounded energy for encouraging each person to find his/her own path to fitness while having fun in the process.
Kay instructs the following:
A progressive and challenging total body workout that specifically targets the abdominal and back muscles using the Allegro Pilates reformer machine. This class builds on the introductory exercises adding more challenging variations and a progression to increased levels of core strength, scapular and pelvic stability plus overall flexibility and coordination.




Strength training with weights and bands to help reshape the body. We will also use basic Yoga poses incorporated to stretch and lengthen the muscles to create a long, lean sculpted shape. Emphasis on Mind/Body awareness. Beginner to advanced will benefit from this class.




Spinning is a simulation of an outdoor bike ride over a variety of terrain, led by an instructor and accompanied by motivational, driving music. Instructors lead students through basic movements that combine various hand and body positions and different types of pedal strokes. Periods of all-out sprinting are alternated with slower, uphill work, which serves as a type of interval training. An awesome way to burn calories and have a great time! Class is appropriate for all levels of students who are healthy and free from serious structural weakness or injuries.




This class, taught using the Allegro Pilates reformer machine, is appropriate for those with chronic or recurring joint or muscle issues. We will work slowly with precision to safely build on our abilities as we improve our core strength, flexibility and coordination. Instructor permission required.




This functional movement class focuses on training of balance, core strength, flexibility, and improving muscle tone in all major muscle groups. Equipment used includes light weights, balls, chairs, bands/tubing, body weight, etc. Fun and appropriate for all fitness levels; targeting those who may be de-conditioned, rehabbing from injury, living with chronic illnesses, or wanting to return to a more active lifestyle. Meets weekly on Wednesdays at 11:15 am.




A circuit training class utilizing traditional cardiovascular and resistance training equipment, various free weight and body weight exercises. Great way to utilize weight training equipment without the added expense of personal training. Class is appropriate for all levels of students who are healthy and free from serious structural weakness or injuries. Exercise modifications for each class member.