David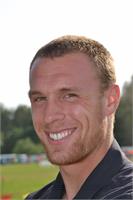 Dave found his niche early on when he began developing training routines for himself and soon noticed a desire to help others reach their fitness goals. He realized he had a knack for motivating and training others and in 2011 graduated from Campbell University with a degree in Fitness & Wellness Management. He is an ACSM Certified Personal Trainer, who was an all conference college athlete and double-sported in football and track. He advocates a balanced approach to all facets of life; from nutrition, strength, and flexibility, to sleep and relaxation. He finds it truly gratifying to see clients surpass their goals to reach their personal best while maintaining a balanced lifestyle.
David instructs the following:
This class uses a circuit format and focuses on burning fat, toning muscles, and lowering your blood pressure by utilizing anaerobic training. Participants rotate through a set of 9 stations that switch exercises and muscle groups every class, while increasing heart rate throughout the hour. You'll never have to worry about repeating an exercise or over-training. Beginners and advanced members will benefit from this course.




Tired of sitting on machines? TRX Suspension Training incorporates full Range of Motion and Functional Training using your body weight. Improve core strength, muscle tone and weight loss. Great for beginners through experts. Work at your own level and pace.




A circuit training class utilizing traditional cardiovascular and resistance training equipment, various free weight and body weight exercises. Great way to utilize weight training equipment without the added expense of personal training. Class is appropriate for all levels of students who are healthy and free from serious structural weakness or injuries. Exercise modifications for each class member.




This classes uses a circuit-style format. 9 stations, 9 different exercises, 3 rounds minimum. It's a high-intensity class focused on increasing your heart rate and improving your cardiovascular endurance through the use of aerobic circuit training. Expect to sweat.




During any of the Open Gym times available, you are free to use the gym and workout on any of the equipment in the area. Treadmills and Ellipticals are available for use during the entire day. Be sure to check the Open Gym Schedule to see which times are available to you.




Definitive Conditioning 1.5

(

DEF-CON

), is a one and a half hour strength and conditioning workout that incorporates the use of TRX Bands, Heavy Duty Tires, Sledgehammers, Agility Harnesses, Agility Ladders, Conditioning Ropes, Barbells, Dumbbells, and even vehicles.

Disclaimer: This is a difficult and intense level class designed for the individual looking for the next level up in their workout. Instructor approval is required.*




"Trim 'n Tone" is an 8 week fitness bootcamp designed to either help you trim inches and lose unwanted weight (or both), all while toning up your muscles. The program runs 4x/week, Mondays through Thursdays, 8-9am and 6-7pm. This is a strict program which boosts core development using specific strength & cardio based exercises. Cardio and aerobic workouts happen on M/W, elevating your heart rate and maximizing your caloric burn, while your muscular strength and endurance is challenged on T/Th evenings, pushing your body to its limit.

With consistent attendance and hard work, you'll be able to burn fat and build lean muscle quickly!

Clients have the option to have their measurements taken before and after the bootcamp, and weight taken once every week (if you so choose). See you there!